This product is designed for indoor or outdoor locations where continuous or intermittent moisture is present, and positively bonds conduit to a box or enclosure. Together the flexible metallic conduit and fittings protect conductors from damage due to excessive vibrations and contaminants such as moisture, oils and dust.
Class 1, Div 2; Class II,
Div 1 and 2; Class III,
Div 1 and 2; NEC 501-4(b),
UL rated suitable for hazardous locations
UL # E93605
CSA # LR61799
Fittings are available in straight, 45° and 90° configurations with or without insulated throats. 2 1/2″ – 4″ available in malleable iron. Please contact office for more details.
Liquid Tight Connectors are suitable for industries and equipment; including machinery and tools, petroleum, food processing, chemical, waste water treatment, HVAC, aerospace, electric power, paint, automobile, paper mills, pumps, etc.
Features
Steel or Aluminum Ferrules facilitate sealing and grounding. Ferrules can be purchased separately
Liquid Tight Connectors are also available in zinc die cast
Liquid Tight Combination Couplings are available for rooftop HVAC. These couplings are utilized in connecting both thinwall and heavywall conduit to liquid tight flexible metal conduit
Resistances
Connector bodies and nuts are fabricated from the highest quality steel for industrial grade impact resistance
Polyethylene Sealing Washers resist dampness and are available separately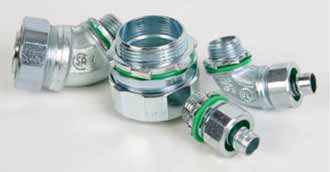 | | | | | | |
| --- | --- | --- | --- | --- | --- |
| Cat# | Size | Diameter A | Overall Length B | Length of Thread C | # / Pkg |
| C-SSM038 | 12 (3/8") | 27.69 (1.09) | 30.23 (1.19) | 16.01 (.63) | 25 |
| C-SSM050 | 16 (1/2") | 30.23 (1.19) | 34.04 (1.34) | 16.01 (.63) | 25 |
| C-SSM075 | 21 (3/4") | 36.32 (1.43) | 36.32 (1.43) | 16.01 (.63) | 20 |
| C-SSM100 | 27 (1") | 44.45 (1.75) | 41.41 (1.63) | 16.77 (.66) | 10 |
| C-SSM125 | 35 (1 1/4") | 54.86 (2.16) | 46.74 (1.84) | 17.02 (.67) | 10 |
| C-SSM150 | 41 (1 1/2") | 60.45 (2.38) | 50.80 (2.00) | 18.29 (.72) | 5 |
| C-SSM200 | 53 (2") | 73.16 (2.88) | 54.11 (2.13) | 18.29 (.72) | 4 |
| C-SSM03890 | 12 (3/8") -90° | 31.75 (1.25) | 40.39 (1.59) | 14.99 (.59) | 20 |
| C-SSM05090 | 16 (1/2') -90° | 31.75 (1.25) | 42.17 (1.66) | 14.99 (.59) | 20 |
| C-SSM07590 | 21 (3/4') -90° | 38.87 (1.53) | 45.22 (1.78) | 14.99 (.59) | 10 |
| C-SSM10090 | 27 (1') -90° | 46.7 (1.84) | 55.63 (2.19) | 16.77 (.66) | 5 |
| C-SSM12590 | 35 (1 1/4") -90° | 49.28 (1.94) | 60.46 (2.38) | 17.53 (.69) | 5 |
| C-SSM15090 | 41 (1 1/2') -90° | 53.09 (2.09) | 66.81 (2.63) | 18.29 (.72) | 2 |
| C-SSM20090 | 53 (2") -90° | 61.22 (2.41) | 77.73 (3.06) | 18.29 (.72) | 2 |